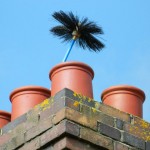 So what are we all about? Based in Bristol. Ian originally comes from an Engineering and General Building background but left the industry to pursue other career options and worked for Aviva Insurance UK for 10 years as an operations manager in a customer service role.
Cheroo Chimney Sweeps was set up out of disappointment!
When I moved to a new property with an open fireplace I thought – 'Great we'll enjoy the benefits of having a nice roaring fire during the cold winter nights. Having small children I wanted to make sure that everything was in order with the chimney and in compliance with our home insurance. I phoned around ten chimney sweeps that first year and not one got back to me, so I did some research online and purchased some brushes and cleaned my own chimney!
The next year I decided to get a professional in to check the chimney and  yet again not one sweep returned my call, so in the end I swept my own chimney again. I was then asked to sweep friends and neighbours chimneys as well as being asked to remove bird's nests and stranded pigeons. It seems as though they too were having trouble obtaining a reliable sweeps services and that is when… the light switched on.
Why not use my experience in Engineering, General Building and Customer Service to create a company whose service was second to none, built on reliability and word of mouth through the provision of great customer service, honesty, professionalism and moral values.
Hence Cheroo Chimney Sweeps was born in 2012. I initially trained with APICS (Association of Professional Independent Chimney Sweeps) and have since been on an extensive program of training in order to bring my knowledge and skills up to date with current legislation and health and safety matters and am currently registered with Sweepsafe  and  HETAS as both a chimney sweep and solid fuel installer
We provide bespoke multi-fuel stove installations and are happy to complete free surveys and quotes and give advice on each installation, as HETAS registered installers you are safe in the knowledge our installations are safe and fitted with the utmost diligence.
So if you are looking for a HETAS approved chimney sweep or stove installer you can trust, email us, I can assure you we will be the only Chimney Sweep Service you'll need.
BOOK ONLINE through OUR PRICES page now!